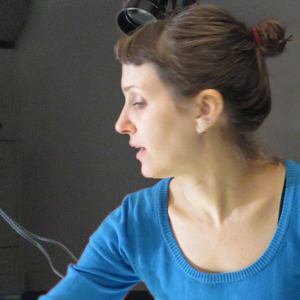 Hola!
Mi nombre es Ana Martín,vivo en Buenos Aires. Soy animadora, mi especialidad es la técnica de stop motion. Adoro animar artesanalmente, cuadro a cuadro, muñecos, recortes de papel, plastilina, objetos, personas, en fin...cualquier cosa que el proyecto requiera. Soy graduada en Diseño de Imagen y Sonido, FADU-UBA. Comencé realizando cortometrajes independientes, algunos de los cuales participaron de varios festivales, entre los que se destacan el Festival de Cine de Mar del Plata, La Habana y Animamundi. En el año 2004, co-fundé el Estudio de animación Canas Verdes, que trabajó hasta el año 2015, principalmente en publicidad y televisión,

para clientes como

Coca Cola, Pepitos, Costa, MTV y Disney
.
Actualmente forma parte de MOCO Estudio

 como directora de animación y animadora, 

 desarrollando 

proyectos de contenido y también 

me desempeño como docente de animación en la ENERC y UNDAV. 
Por cualquier consulta o colaboración en tus proyectos, contactame!
Hello! My name is Ana Martin, I live in Buenos Aires.
I'm animator, specialized in stop motion.
I
love to animate frame by frame puppets, paper cuts, clay, objects, people, or what the project requires.
I graduated on Image and Sound Design from the University of Buenos Aires (UBA). I also have studies in animation, arts and acting. I began making independent short films, some of which participated in festivals, including the Mar del Plata FilmFestival, La Habana and Animamundi.
In 2004,
I co-founded, Canas Verdes Studio, that has worked

until 2015

, for advertising and television. 
Among others, we worked for clients as CocaCola, MTV and Disney.
Actually I

am partner of MOCO Estudio as animator and animation director,
where she develops original content projects
I

teach animation in ENERC and UNDAV, and also develop my own animation projects. Contact me for any collaboration on your projects.